Bridge Lessons at Te Puke Bridge Club
Bridge Lessons at Te Puke Bridge Club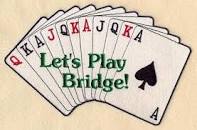 Bridge Lessons start at 7pm on the 9th March at 4 Queen street Te Puke.
Suitable for absolute beginners or those that have been away from the game for a while.
Taught by Trish Kidd and her husband Bob, learn how to play this fascinating and ever popular card game.
Come alone or with a partner. No previous bridge experience necessary. Learn the rules of the game and
how to play in a relaxed environment.
Any queries please phone or message on:
Bev: 0274960582 or Rainy: 0278398618
Cost: Only $49.00 for 10 weeks and new players can play in the Te Puke Club for free for the rest of
the year.