Happy Easter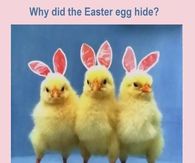 What a wonderful Autumn we are having after a dreadful summer. It almost makes up for it.
1. Lessons continue to go fantastically with 27 on the list . Trish and Bob Kidd are doing
an amazing job . We also give many thanks to our merry band of helpers as with 6
tables we need an assistant at each. It is also good that our helpers, who learnt the
'Open with 5 card majors', are learning the Acol system and will have the confidence
to play this as well.The atmosphere at lessons is really lovely and many have
commented on the friendliness. At this stage it is planned that after lessons the
'newbies' will play on a Tuesday- at the far end of the room until they have
confidence to join the more experienced players.

2. Our first tournament of the year , Te Puke Restricted pairs, will be held on 20 th May.
We really encourage members to come along. It is a brilliant way to improve your
bridge and is a lot of fun. Bev Verkuylen , Tournament organiser, will be playing and
would love any offers to help set up and also to make sure things are going to plan
in the kitchen i.e. dishes done, zip and urn filled.Help prep some platters for
afternoon snacks (chips and dips). Please let Bev know if you can help

3. As you know, if you are looking for a partner you phone Pattie Spence and let her
know if you require someone. Patti sends an email to those who are on a list as
players for that day e.g there is a list for Monday, one for Tuesday and one for
Friday. We are aware that some members are not on a list for a certain day but ARE
in fact available.
We will leave a sheet at the bridge club and would appreciate it if you could tick by
you name the days you can play on.

4. Did you know: 52% of games bid at a slam level fail
69% of bridge players are female
81% of statistics are made up- including the 2 above

5. A married couple are not speaking to each other after playing together and having a
horrible game of bridge. As they are driving home they pass a field of Donkeys. The
husband breaks the silence by asking the wife "A relative of yours?"
She replies "Yes, my inlaws"
 
HAPPY HAPPY EASTER TO EVERYONE